Who We Are

LESLIE SALMON JONES: Founder of Afro Flow Yoga®
| Email Leslie
Afro Flow Yoga® founder, Leslie Salmon Jones enjoys a career working with clients, students, diverse populations, and community organizations to help develop mastery over their physical, emotional, mental and spiritual well-beings.  Since dancing at the age of seven, Leslie has been living her dreams as a professional dancer, certified holistic personal trainer, yoga instructor, wellness coach, and public speaker.  She completed her BA in interdisciplinary studies in health sciences and dance at SUNY, NYC and has had the opportunity to study and train with world-renowned masters of dance, yoga and spirituality. It was through her intensive dance training at the Alvin Ailey School in New York that Leslie was first introduced to yoga, and nearly twenty five years later, she remains dedicated to her yoga practice. It was the connection with African spirituality, yogic principals, the intrinsic expression of movement through nature's elements and a transformational journey throughout Africa and the Caribbean, that inspired Leslie to create Afro Flow Yoga® in 2008. Along with her husband Jeff Jones multi-instrumentalist, recording artist, musical director and co-founder, they currently offer AFY weekly classes, monthly workshops, teacher trainings and outreach programs to promote diversity and inclusion in Boston, Connecticut and New York.  AFY workshops and retreats are also offered at The Omega Institute, Kripalu Center for Yoga & Health, Festivals, Schools, Colleges and Universities, private events and at studios worldwide including Hawaii, Jamaica, Costa Rica, Bali and Canada. Afro Flow Yoga® has been featured in Yoga Journal, Black Enterprise, NPR, Exhale Magazines, "Better Living with Liz Walker," NBC and ABC news and was voted "Boston's Best" yoga class in 2016 by the Improper Bostonian.  Leslie and Jeff co-produced two wellness DVDs:"Core Strength: Back to Basics" and "Core Power: Radiate the Energy Within", available online.
Leslie is also a co-creator and faculty member for the annual Omega Women's Leadership Intensive and at The Omega Women's Leadership Center.
Leslie also teaches weekly Core Strength & Core Power classes in Boston along with her Living From Your Core™ program.  To learn more please visit,  www.lesliesalmonjones.com.
JEFF W. JONES: Co-Founder and Musical Director
Afro Flow Yoga® co-founder, Jeff Jones, is a multi-instrumentalist, recording artist, musical director, composer and co-creator with his wife and founder, Leslie Salmon Jones.  Jeff creates an intuitive dynamic flow through a stream of consciousness and the mastery of African inspired rhythms, instruments and vocals, synergizing the class collective. His use of the Djembe, which he brought back from Ghana, congas, bongos, Sudanese acholi lyre, Indian bells, tambourine along with an eclectic array of tonal instruments, makes for a healing musical journey.
He has co-facilitated classes, workshops and retreats at the Omega Institute, Kripalu Center, Alvin Ailey Dance Center, Boston Yoga and Chant Festival, Caribbean Yoga Conference, Maui yoga retreat, and Forestdance, to name a few.
In addition to his role at Afro Flow Yoga®, Jeff has enjoyed a career as a professional musician for over 20 years and comes from a lineage of three generations of accomplished musicians. He has been blessed to travel the world performing on many continents and has played various musical genres and venues such as Scullers Jazz Club, The Supper Club NYC, Windows on the World,, Berklee Performance Center and Mile High Stadium.  He has performed for the inaugurations of President Barack Obama and Governor Deval Patrick, and has opened for greats such as Little Richard and Al Green.
Jeff produced and engineered two wellness DVD's Core Strength: back to basics and Core Power: radiate the energy within, which he co-created with Leslie Salmon Jones.
AKILI JAMAL HAYNES: Musician
| Email Akili
Composer and multi-instrumentalist, Akili Jamal Haynes, began his career at the age of 15 as a trombonist under the mentorship of Wynton Marsalis and three years later was touring with Illinois Jacquet's Big Band.  Early on, Akili embarked on his pursuit to perform on multiple instruments at high skill levels, to bring higher standards of excellence to his original compositions.
Akili has honed his skills and knowledge of Haitian, Ugandan, Brazilian, and Senegalese folklore, music, dance, and drumming.  Recently he was musical director for Dr. Glory Van Scott's production of Urban Canaan at the John Hancock Hall in Boston, as part of the Boston Arts Academy's 10th Anniversary Celebration. When Dr. Van Scott is in the Boston area, Akili is her drummer of choice, and for that he feels very blessed.
Akili currently performs with several ensembles, each with its own musical language.  He has participated on several recordings as a trombonist, composer, trumpeter, keyboardist,vocalist, tenor saxophonist, alto saxophonist, bass clarinetist, and acoustic bassist with genres including jazz, folk, rock, funk,gospel, American pop, African pop, and the list continues to grow.  He has traveled the world with legendary artist like McCoy Tyner, Lester Bowie, Herbie Hancock, and recorded with Lenny Kravitz, Roberta Flack, The Lincoln Center Jazz Orchestra, and The Mingus Big Band, among others.
Akili has been a Faculty member of the New England Conservatory of Music's Preparatory & Continuing Education School for over 14 years, and in 2008 he became Program Director of the Woodwinds & Brass Ensemble Program at NEC at the behest of his mentor Calvin Hicks.  He is also Guest Percussion Faculty and Bass Accompanist at Berklee College of Music, Affiliated Artist/Composer in M.I.T.'s Dance Theater Department, Instructor at Seaport Campus for Children, Dance Faculty Musician in the Boston Conservatory Dance Division, Dance Accompanist at Jeannette Neil Dance Studios Accompanist for Prometheus Dance Company and creator of Chibuzo Music.
Akili was born in Brooklyn, New York, on July 12, 1972, and currently lives in Boston.
MORLEY KAMEN:  Guest Artist
From Carnegie Hall, Nice Jazz Festival to the Nomad Women's Festival in the Sahara Desert, Morley has brought her unique blend of jazz, folk and soul to the world's stage. Be it solo with her acoustic guitar or with full electric band, her message is consistent and clear; love, justice and inspiration.Morley performs all over the world, and had the distinct honor of presenting at TEDWomen. Her song "Women of Hope" (video by Damani Baker "Still Bill") has been featured in Nobel Women's Initiative documentaries and has brought her before many world leaders and policy makers. She has performed for His Holiness the Dalai Lama, Nelson Mandela, Ban Ki-moon, Mary Robinson, and Ela Gandhi. She has written, collaborated, and shared the stage with such distinguished artists as Dr. Bernice Johnson Reagon, Toshi Reagon, Richie Havens, Robert Wilson, Raul Midón, Amadou et Mariam, Joan Wasser, Dave Matthews, Sheryl Crow, Queen Latifah, Angélique Kidjo, Sarah McLachlan, Max Roach, Wynton Marsalis,Joan Wasser, Manu Katche and Cassandra Wilson.Morley's previous recording, Seen, came out on Universal/Polydor. Prior to that, the Days Like These CD was released independently, before being picked up by Universal. Morley's debut, Sun Machine, was released on Sony/WORK, songs from her albums have been featured on several television programs, both nationally and internationally. Morley's voice was also featured as the soundtrack for the Ralph Lauren fragrance, "MyRomance".For more info, please visit
www.morleymusic.org
DAVE WOODHAM: Web and Marketing Support
| Email Dave
Dave Woodham is a marketing/environmental studies co-op student at Northeastern University.  He brings his social media marketing techniques and technical web expertise to the Afro Flow Yoga™ team.
Before moving to Boston for school, Dave grew up in Vermont, where he spent time hiking, snowshoeing, skiing, or doing anything that got him outside.  He recognizes the benefits of being balanced, relaxed, and centered, and loves how Afro Flow Yoga™ fuses these elements with the energy of the drums.
Pilin Anice: Afro Flow Yoga Instructor
| Email Pilin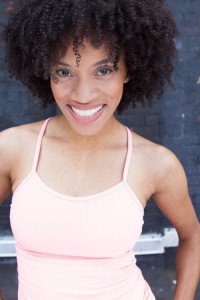 Pilin Anice is a professional dancer/singer and yoga instructor, performing artist, and model. Pilin is passionate about helping others tune into their highest creative self. From universities to community organizations, she has guided students of all ages in the sacred movements of dance and yoga through a range of workshops and classes. She has been featured on the Today Show, GMA, BET/CentricTV, and YogaXpress. For over 14 years, she has studied with masters of West African dance, Duhnam Technique, and African Diasporic dances of Haiti, Cuba, and Brazil. Her passion for yoga & dance lead her to become a certified Afro Flow Yoga instructor under the tutelage of founder and mentor Leslie Salmon Jones. She is an alumna Howard University, where she was awarded the Debbie & Phylicia Ayers-Allen Performing Arts Scholarship and trained at Alvin Ailey Dance Theatre. Pilin earned her 200 Hour RYT at Reflections Yoga in Guatemala.