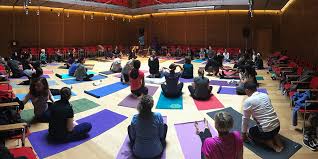 Join the Isabella Stewart Gardner Museum for a day of free admission during the annual Fenway Cultural District community festival Opening Our Doors Day. Bring the whole family for a day of fun, creativity, and culture. Enjoy music, hands-on making, gallery games, and dance inside the Museum.
Calderwood Hall: Leslie Salmon Jones and Jeff Jones Zone of Afro Flow Yoga present interactive movement and voice workshops for the whole family. 1-1:45pm and 3:30-4:15pm
For more information, please visit www.gardnermuseum.org
More than twenty institutions in Boston's Fenway area come together for this free cultural event. For more information, visit www.fenwayculture.org.